Last year for a greeting I picked an ominously dark painting. Just in case it had some kind of preternatural effect, allow me to offer this sketch for "Arrival" instead. It is from a show called Technicolor Summer, and the painting reflected, among other things, how every time I, from LA, reunited with my family from San Francisco, I would be in a sun dress and they would be in black turtlenecks, and how metaphorically it always represented two different versions of reality colliding into each other, more evident in the underpainting.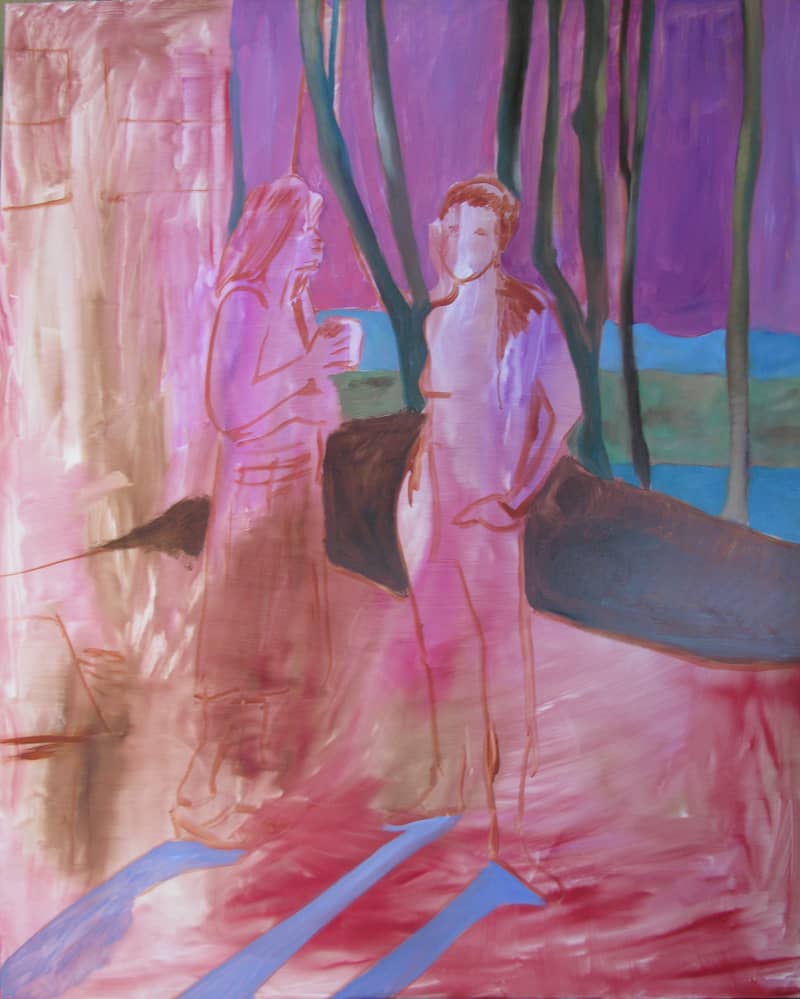 As I write this, Los Angeles is experiencing a surge upon a surge and Angelenos have the same spooky look in their eyes that the New Yorkers had in March except that we're perhaps more weary. So much time spent alone, painting, sitting by the fire, reading, writing. I wonder if, now that mother nature has collectively sent us to our rooms, we will finally put the phone down and be more present the next time we're together.
We're now all Anne Dillard in her essay entitled and describing a "Total Eclipse".
Please read the whole thing but this is an excerpt.
I turned back to the sun. It was going. The sun was going, and the world was wrong. The grasses were wrong; they were platinum. Their every detail of stem, head, and blade shone lightless and artificially distinct as an art photographer's platinum print. This color has never been seen on Earth. The hues were metallic; their finish was matte. The hillside was a 19th-century tinted photograph from which the tints had faded. All the people you see in the photograph, distinct and detailed as their faces look, are now dead. The sky was navy blue. My hands were silver. All the distant hills' grasses were finespun metal which the wind laid down. I was watching a faded color print of a movie filmed in the Middle Ages; I was standing in it, by some mistake. I was standing in a movie of hillside grasses filmed in the Middle Ages. I missed my own century, the people I knew, and the real light of day….A thin ring of light marked its place. There was no sound. The eyes dried, the arteries drained, the lungs hushed. There was no world. We were the world's dead people rotating and orbiting around and around, embedded in the planet's crust, while the Earth rolled down. Our minds were light-years distant, forgetful of almost everything. Only an extraordinary act of will could recall to us our former, living selves and our contexts in matter and time. – Annie Dillard's Total Eclipse, The Atlantic)
Yeah, we're living in a faded color print of a movie filmed in the Middle Ages, all right. I remember reading about the 1918 Spanish Flu, a teensy footnote in history class. Like a total eclipse, the footnote or photograph just doesn't do it justice.
It has been eight months. Here's to leaving this strange year behind us. I miss each and every one of you, even the ones I don't know and have never met. I hope you're well and safe. We will get through this.
Here's to a better 2021.
Warmest,
Kimberly